카본 화이버 롤러는 중량을 최대한 줄이고 초스피드에서도 사용하기위해 설계되었다 .
초경량이며 낮은 관성의 아이들러 롤러는 웹의 속도를 빠르게 하고 진동을 줄이며, 지분을 최소화하고 생산성을
향상시킨다.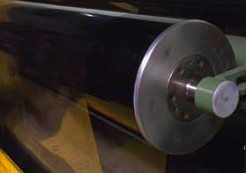 Idler Rollers ~ Transducer Rollers ~ Accumulator Rollers ~ Guide Rollers ~ Contact Rollers
~ Nip Rollers ~ Dancer Rollers ~ Lay On Rollers ~ Calender Rollers ~ Reel Spools~
Roll Cores
Feature

Advantage

Benefit

Low Rotational Inertia
(Reduced mass moment of inertia by up to 80%)
Rollers spin at line speed.

Far less web scratching.

Reduced roller wear.

Dissipates static electricity.

Quicker response to changes in line speed.

Fewer web breaks.

Far less start-up waste.

Less web stretch.

Less web wrap-up in the event of a web break.

Extended idler roller life and reduced coating thickness.

Less horsepower and/or fewer motors required.
Lower energy consumption.
High Stiffness
(High Modulus)
Less deflection.

Less web wrinkling.
Longer bearing life.

High Specific Modulus (High Stiffness to Density Ratio)
Faster line speeds with less vibration. (Higher critical speed).
More throughput and better product quality.
Less self-loaded deflection.
Less web wrinkling across wider spans.
Low Mass
Super lightweight.
Easier and safer handling.
Less bearing wear.
Longer bearing life.
Low Momentum
More accurate transducer measurements.
More precise tension control.
Less lay-on roller bounce.
Higher quality wound rolls with less air entrainment.
Quicker dancer and accumulator roller response.
Better dancer and festoon performance with consistent tension control and less web stretch.

The importance of idler rollers (idler rolls) with low rotational inertia
Lightweight, high-stiffness carbon fiber rollers exhibit lower inertia to acceleration
and deceleration (rotational or translational), and can run at higher speeds.
Composite rollers reduce waste while increasing productivity and efficiency.
Carbon fiber idler rollers provide better performance than traditional steel or aluminum
rollers, particularly when wide web widths, heavy loads, and faster speeds are necessary.
Consider this example where a 164 inch steel roller with an 11.25 inch O.D. was replaced
with a carbon fiber roller with the same dimensions:
| | | |
| --- | --- | --- |
| | Weight | Rotational Inertia |
| Existing Steel Roller | 1000 lbs. | 34,330 lb.-in.2 |
| Light-Speed Carbon Fiber Roller | 220 lbs. | 4200 lb.-in.2 |

Dura-Stat: STANDARD COATING. Wear resistant, conductive polyurethane which works to prevent buildup of static charge on rollers. Suits most idler roll applications. Economical, resistant to most chemicals and abrasion, repairable, and replaceable. Black in color with an appealing satin finish. Surface Finish: 32 μin Ra (0.8 μm Ra).
Dura-Clear: Durable clear-coat polyester urethane. Non-conductive. Surface Finish: 32 μin Ra (0.8 μm Ra).
Dura-Clear Gloss: Polished clear polyurethane, non-conductive. Similar to Dura-Clear, but has a mirror finish surface that is friendly to sensitive web materials such as very thin films or very thin film/foil laminates. Surface Finish: 4 μin Ra (0.1 μm Ra).
915D: Nickel Chromium Thermal Spray with Release offers wear resistance, traction, and release all in one coating. This coating has successfully served in many applications with adhesive coated web materials. The silicone release agent in this coating prevents even aggressive adhesives from sticking. Surface Finish: 215 μin Ra (5.5 μm Ra); Hardness Rc 58; Color: Silver-Gray.
LC4: Chromium Oxide Plasma Spray offers a rock hard, ceramic surface that has extreme resistance to abrasion and chemical attack. This coating can be polished to approximately 10 μin Ra (0.3 μm Ra) when sensitive web materials are to be run. Standard Surface Finish: 80 μin Ra (2 μm Ra); Hardness Rc 72; Color: Dark Green-Black.